The history of Q-tron
In the Beginning......
Originally formed by Andrew Cusack in 1980 as a part time product design consultancy providing add-on items for Apple II computers.
Worked on the design of some of the early multi user business PCs based on the CPM operating system.
Q-tron Maintenance Services Ltd formed in 1986 to service and support the Data General mini computer industry with blue chip clients such as Nat West Bank, Sheffield University, Bristol Council and ICL Services.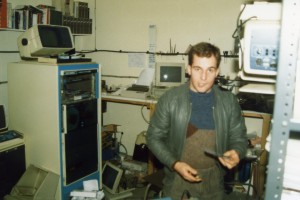 Q-tron's Data General Workshop at Denaby in Rotherham 1988
Became SAGE dealers in 1988 and developers in 1989 with our first SAGE linked EPoS system in 1990
Formed a strategic partnership with Sanyo Retail and Nippon Denso Barcoding in 1993. Re-deigned Sanyo's first EPoS terminal to run Windows 3 in late 1993 and displayed at CEBIT Germany in 1994 running our first SAGE 4GL based EPoS software.
Awarded contract to produce the main CPU board for Sanyo EPoS terminals using 386 technology with all-in-one PCB, granted European distribution rights for this terminal.
In 1995 SAGE approved Q-tron SagePos software and negotiated rights to become the first SAGE EPoS system with hardware platforms from Sanyo, IBM and TEC. Q-tron recruited EPoS resellers from the SAGE dealer base and distributed Sanyo EPoS terminals with the SagePos software.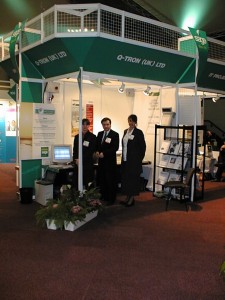 SAGE Expo 1998
Developed one of the first touch screen Windows based EPoS systems for Epson IR terminals and displayed at Retails Solution Show Birmingham NEC. We were also asked to appear on the IBM and Denso stands with our software solutions for SAGE.
Formed relationship with Equifax to develop and support software for their Transax cheque guarantee service with links to SAGE accounting software.
Transax software developed by Q-tron
Moved to new premises in one of Yorkshire's few Grade 1 listed Georgian historic buildings in January 1996.
One of the top 10 SAGE Line 100 resellers with customers in the UK and abroad. Sold solutions to customers in Africa, Asia and Europe with a presence in our Gibraltar agents office Computec.
Developed outline for use of 2D QR barcodes in food industry for holding product information and cooking instruction with Belling and BSI in 2000. Presented the concept to the chief Technologist at Marks & Spencer and the Government Minister for Food & Fisheries.

Over the years we've had various industry publication report on our systems helping businesses improve their use of SAGE by using our add-on modules.