Q-inv - Remote invoicing for SAGE 50 and 100
Hand held remote input of invoice data linked to a Customer Account
Hand held data capture terminal
Q-inv utilises a robust hand held data capture terminal with integral barcode scanner. With an easy to use alphanumeric keypad for manual input of data.
Six line menu driven, easy to read LCD display with 'back light'.  Simple cable connection to a PC Com port or optional infra-red and wireless connection cradle.
The PC interface software
The PC interface software allows full editing of the scanned invoice prior to posting to the selected customer account.
Problems such as negative stock are highlighted, alerting the user prior to posting to Sage.
The stock code, quantity scanned and the current quantity in stock are displayed on both the hand held unit and the 'download' screen for comparison.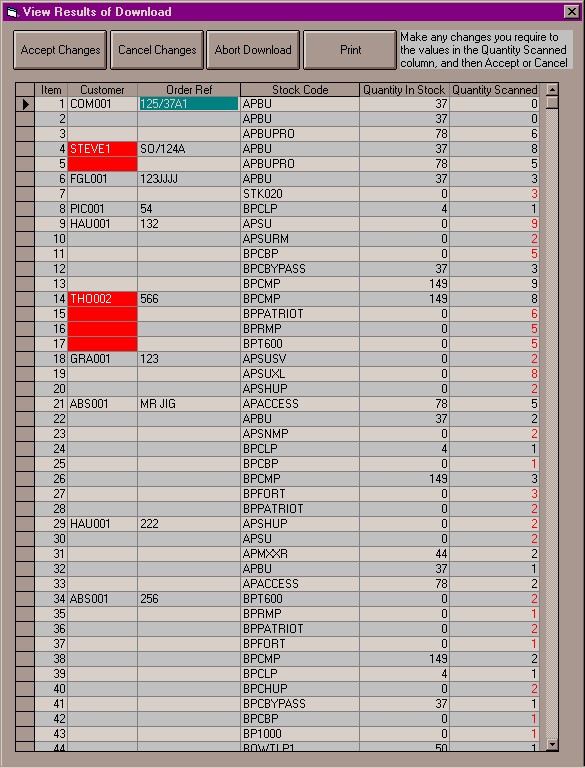 Product File to the hand held terminal
The ability to edit the invoice details, investigate any discrepancies or adjustments before posting to the selected Sale account.
The main screen facilitates uploading of the Product File to the hand held terminal. It also receives the captured data for the scanned invoice.
Confirmation of postings are displayed and automatically stored in the audit trail.
All current settings are displayed at the foot of the main screen for easy reference.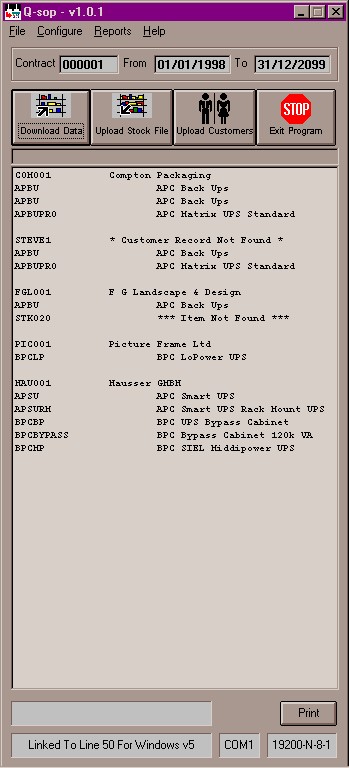 Q-inv Software
Pricing Information
Q-inv invoice production software
Q-inv invoice production software
Please note
The above Q-inv+ products require an additional bar code table in order to reference alternative or manufacturers bar codes. This can be in the form of Q-scan+ or Q-plus as detailed below.
Optional Bar Code Referencing.
All scanning products from Q-tron come in two variants. In their standard form they will only scan bar coded representations of Sage Product Codes. In their plus (+) form each Sage Product Code can be linked to a bar code table containing alternative bar codes. Therefore if an alternative code is scanned, the data is converted into its corresponding Sage Product Code.
Q-plus software contains the bar code table for use with Q-products where an alternative or manufacturers bar code number needs to be referenced against a Sage Product Code. It allows the manual input of bar codes data.
Pricing Information
Q-plus Software with Interface to Sage
These products include 30 days telephone installation support only. Full software support and update cover is available as an option. Standard cover is from 09:00 to 17:00 Monday to Friday excluding Bank Holidays. Additional cover is available on request.
Modifications to these products can be made to suit individual requirements.
Data Capture Units
The Denso 300 & 8000 models incorporate a high quality distance CCD scanner, capable of scanning bar codes in excess of 200mm in width. They are lightweight, easy to use and are equipped with a back lit LED display.
Care should be taken when ordering the data capture unit, as each of the models will accommodate different amounts of Customer or Product information. Our sales staff will be happy to advise on the appropriate unit
Pricing Information
Denso D8000 Data Capture Unit with barcode reader
Denso D8000 download cradle with battery charger
Denso D300 Data Capture Unit with barcode reader
Denso D300 download cradle with battery charger
Units are supplied with RS232 download cable, optional download cradle and battery chargers are available.
Hardware cover is optional, prices available on request.
All of the above prices are subject to VAT and delivery.
Q-tron reserves the right to alter Product specification without notice.