Q-pick - sales order picking for SAGE
Hand held remote scanning of picking lists to SAGE SOP
Q-pick
Q-pick utilises a robust hand held data capture terminal with integral CCD barcode scanner and colour touch screen display. With an easy to use alphanumeric keypad for manual input of data.
Connection is via either download cradle for batch updating or WiFi if available directly to your SAGE data for live posting.
The system has a software module based on your network for linking the hand held devices to your SAGE system. This sends data to and from the device so live picking of orders can be set up or batch collation of data for review before posting. Orders can be picked and held or part picked and 'laid away' for completion at a later date.
PC based interface software
The PC based interface software downloads the picking list from sales orders in Sage. The operator can choose a single, multiple or all orders from a display list.
Products are scanned to verify the correct item and quantity on the order. The stock code, quantity scanned and current stock level are displayed on both the data capture unit and the download screen for comparison. Serial numbers can also be scanned with the S/N module.
On the PLUS version any manufacturers barcodes not linked to a product code can be added on the data capture unit and these update the system automatically.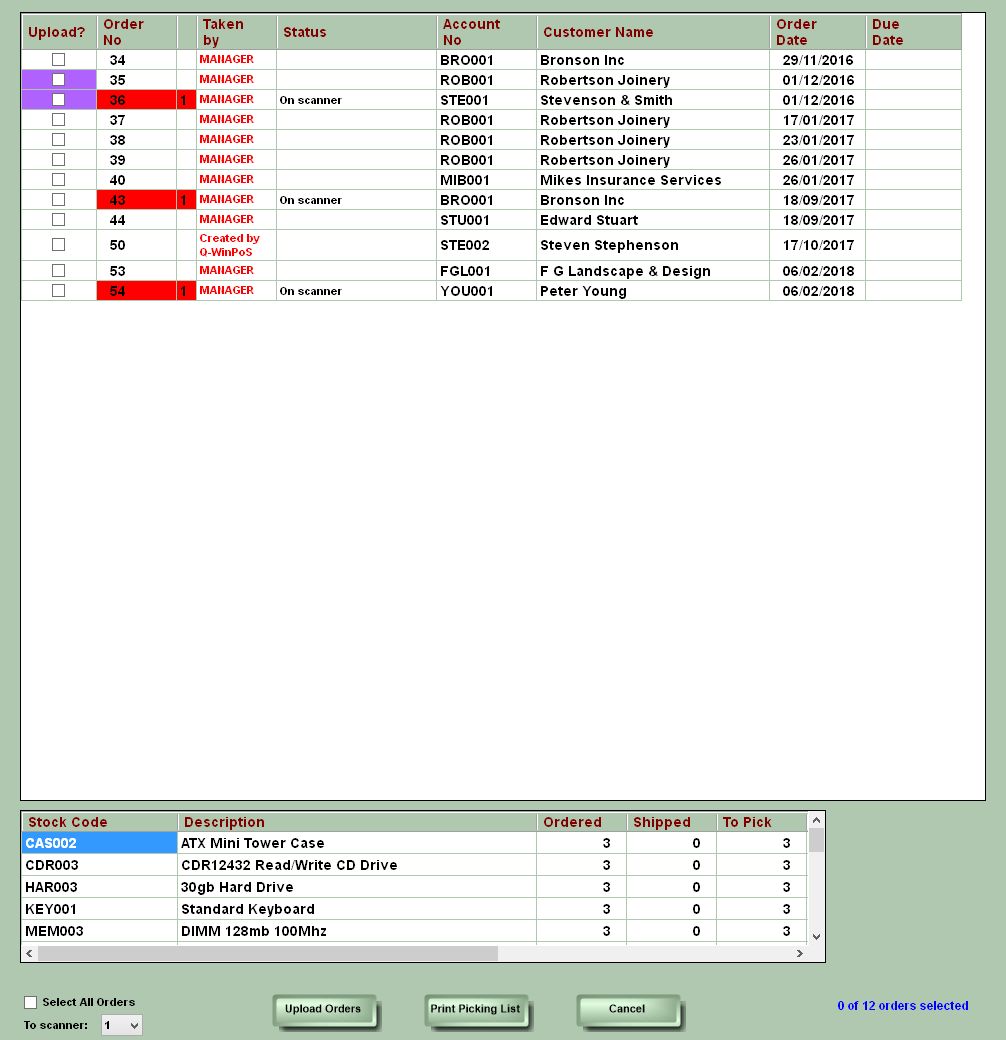 Delivery note
Confirmation of postings are displayed and automatically stored in the audit trail.
A delivery note can be automatically printed after the pick is complete. Orders can be marked as complete and a sales invoice posted to the customer account.
All current settings are displayed for easy reference at the bottom of the window.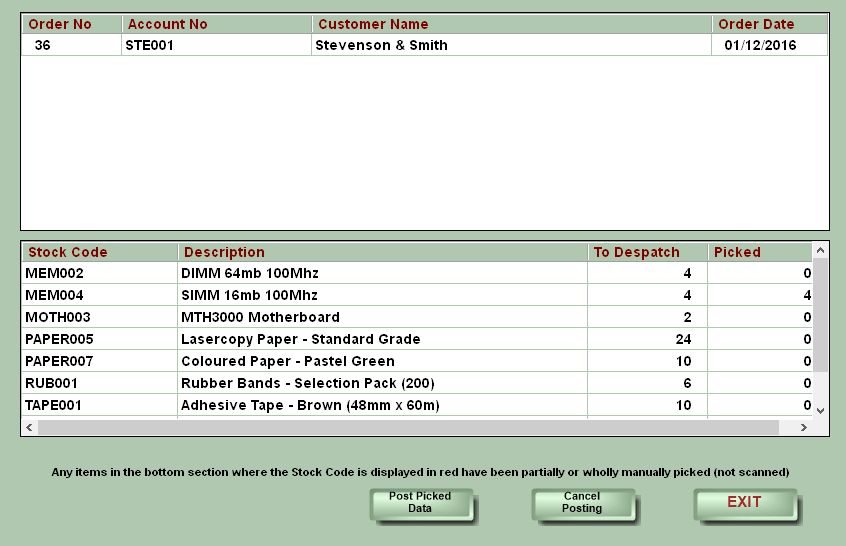 Please note
Q-pick+ products require an additional bar code table in order to reference alternative or manufacturers bar codes. This can be in the form of Q-scan+ or Q-plus as detailed below.
Optional Bar Code Referencing.
All scanning products from Q-tron come in two variants. In their standard form they will only scan bar coded representations of Sage Product Codes. In their plus (+) form each Sage Product Code can be linked to a bar code table containing alternative bar codes. Therefore if an alternative code is scanned, the data is converted into its corresponding Sage Product Code. This feature also includes the ability to identify a packaging barcode and add a multiplying factor to the item quantity if scanned.
Optional serial number tracking.
This allows any item which has serial numbers to be recorded at the time of picking and stored in a table for traceability. If the corresponding purchase delivery is scanned this will link the sale to the purchase order.
Q-plus software contains the bar code table for use with Q-products where an alternative or manufacturers bar code number needs to be referenced against a Sage Product Code. It allows the manual input of bar codes data.
Q-tron reserves the right to alter Product Specification and pricing without prior notice. E&OE.
Pricing
The overall system price will depend on requirements, we will be happy to provide a written quotation on request
The software is provided with installation, configuration and training at extra cost
All prices will include first year support
Support is provided upon condition of a suitable remote link (such as VPN – virtual private network) to all sites; cover is for a 12-month period and includes all updates
All prices are subject to VAT