Q-LBSRec
Location, Batch & Serial Number Recording for SAGE 50
Q-LBSRec is a simple, cost effective way to link Multiple Locations and/or Batch and Serial Number Recording to your SAGE 50 postings.
It works alongside your existing SAGE 50 software to mimic some of the features currently only available in some of the larger versions of SAGE but at a fraction of the cost of upgrading.
It can either work 'stand-alone' or in conjunction with our Barcode Scanning Products.
A comprehensive group of interactive screen enquiries and reports are included to enable you to interrogate the movements and help you to quickly answer questions such as: –
In which location(s) can I find a particular product?
Which customers purchased items from a particular Batch?
When was a particular Serial Number received?
Which products can be found in a particular Location?
Product Setup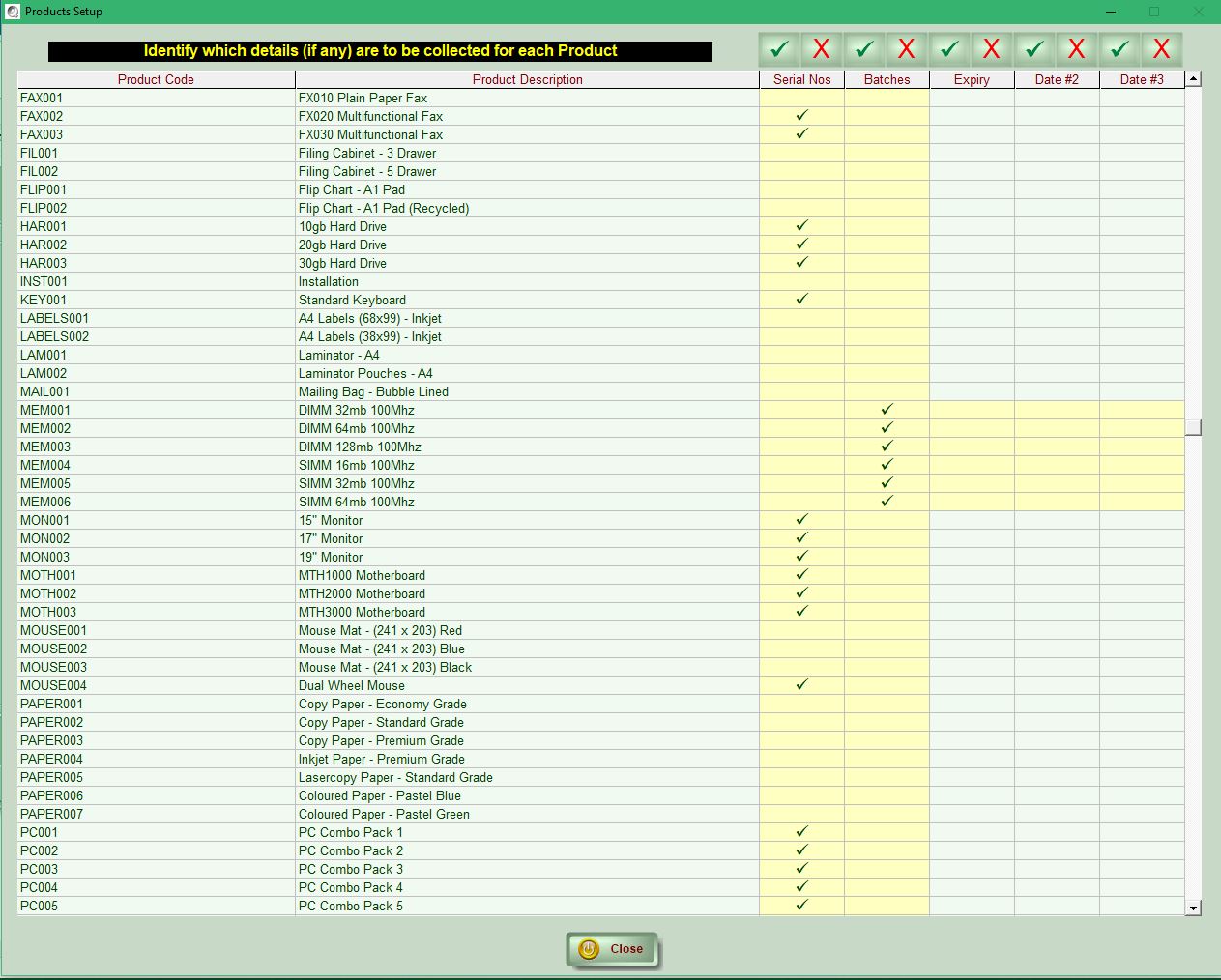 You identify Products which have Batch Numbers and/or Serial Numbers and the system controls the data collection.
For Batches you can specify if an expiry date is required. You can define up to two more relevant dates (in this example the date of manufacture has been specified).
Products that do not require Batch/Serial Numbers will record Location only.
Movements Input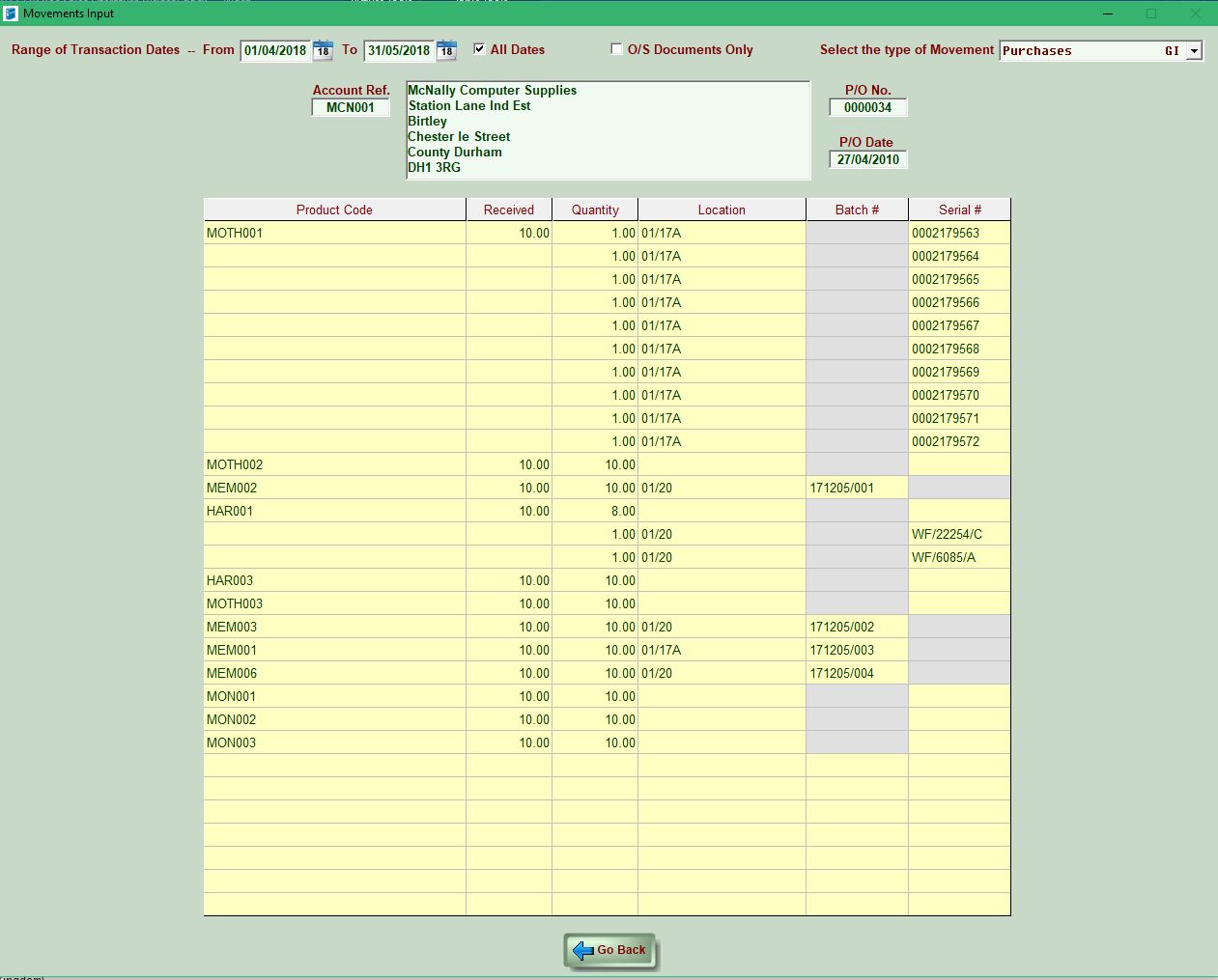 The Movements Input allows you to enter the relevant Locations and Batch/Serial Numbers against SAGE 50 postings (in this example a Purchase Receipt).
The Product Setup screen is used to identify the details to be recorded.
N.B. If you are using our Barcode Scanning Software these entries are created using the Scanner in which case the Movements Input option can subsequently be used to make any necessary adjustments.
Batch Control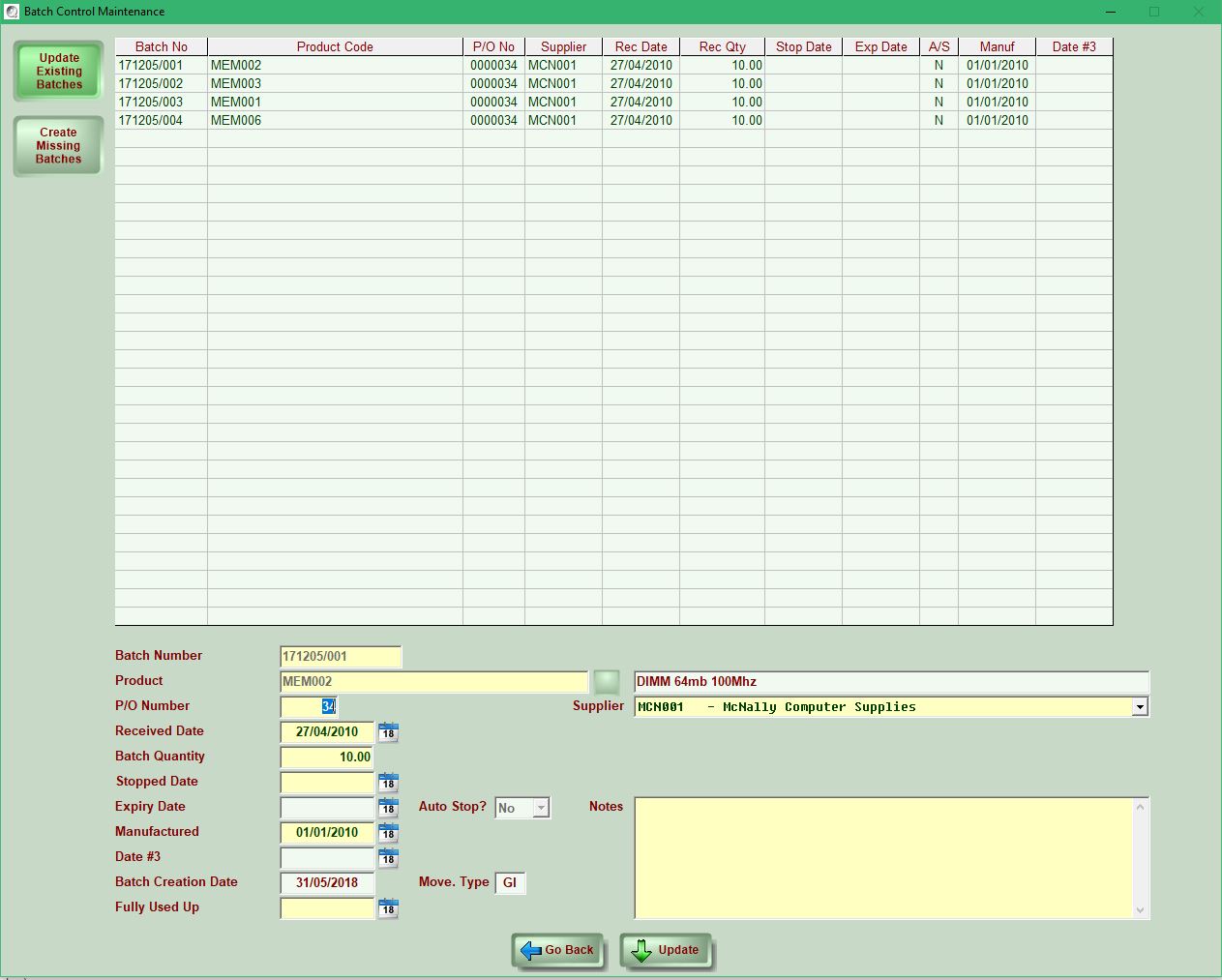 The Batch Control allows you to enter other details that are relevant to a given Batch.
If there is a problem with a Batch you can set it as 'Stopped' – if you are using our scanning software doing this will tell the scanner not to allow this Batch to be scanned.
If a Batch has an Expiry Date you can set it as 'Auto Stop' which will automatically stop the Batch on the expiry date.
Other Movement Enquiry Options
Pricing
The overall system price will depend on requirement, we will be happy to provide a written quotation on request
The software is provided with installation, configuration and training at extra cost
All prices will include first year support
Support is provided upon condition of a suitable remote link (such as a VPN – virtual private network) to all sites; cover is for a 12-month period and includes all updates
All prices are subject to VAT
Q-tron reserves the right to alter Product Specification and pricing without prior notice. E&OE.