Q-Recycle
Recycling Processing Module for Sage 50
Q-Recycle is a tool to record the processing of recycled clothing from the production of product bales through to the processing of Sales Orders and subsequent despatch of goods to the Customer.
The system provides a seamless interface into SAGE 50 where it automatically updates stock levels with production and despatch details. When the goods are despatched the system creates delivered Sales Orders and unposted Sales Invoices.
Tickets are produced which are passed into Production where they are attached to the Products. The ticket shows the product details and also carries a unique serial number which the system uses to identify the stock as it moves from production, into stock and then through despatch to the customer.
Details of the tickets are written away to the Database and form the basis of the system. As stock is processed, details such as the person who produced the Bale, the production date, the customer who bought the bale, details of the order and the date that the goods were despatched are added.
Input of production and despatch information can either be done manually or via a handheld barcode scanner.
Various enquiries provide you with the necessary tools to quickly and easily answer queries. For example you can access sales information either by customer or even by the container number that the goods were despatched in. If you have the serial number of a bale you can see when it was produced and even who produced it.
Ticket Requests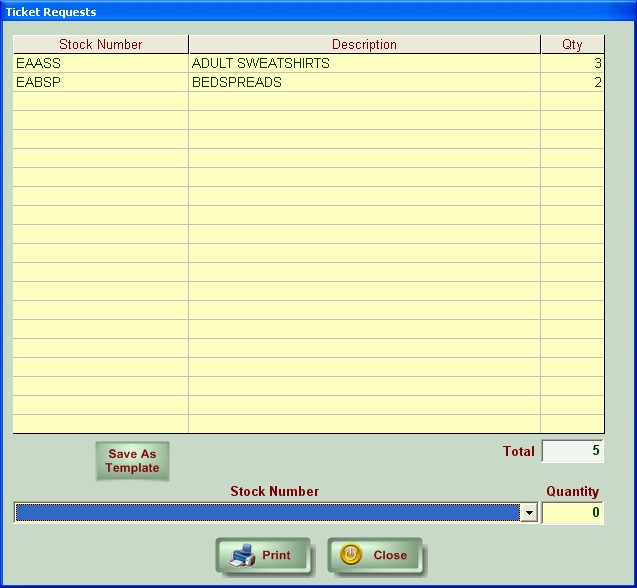 The Ticket Requests option is used to produce tickets which are attached to Product as it is produced.
If you frequently produce the same or a similar list of products you can store the list of ticket requests as a template. This means that yo don't need to enter individual requests next time – you just use the template!
Ticket Enquiry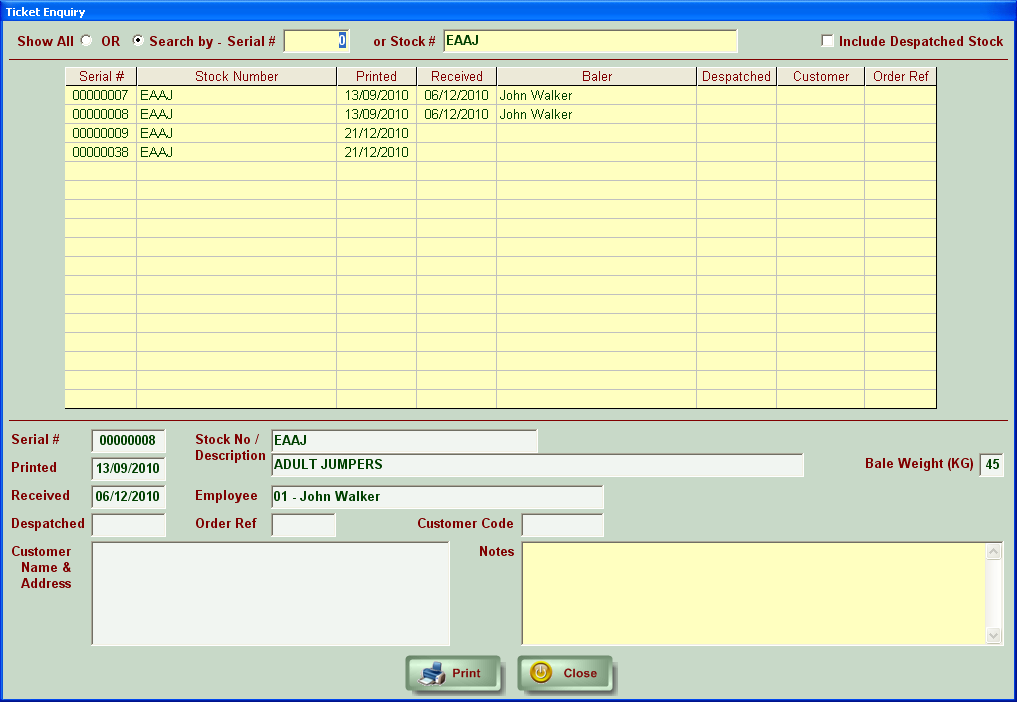 Use the Ticket Enquiry to view details of stock. You can search for a specific serial number, view all serial numbers for a specific stock number, or you can list all stock. There is a facility to include stock that has been despatched should you have a query after the goods have been sold.
Should a ticket be lost or damaged you can print a new one here.
System Information and Parameter Maintenance
The system information and parameter maintenance screen shows you the version number of your software and support details should you have any queries.
In addition this is where you set the system parameters such as your company details, the model of your Barcode Printer, the location of the system database and communications parameters.
Q-tron reserves the right to alter Product Specification and pricing without prior notice. E&OE.
Pricing
The overall system price will depend on requirements, we will be happy to provide a written quotation on request
The software is provided with installation, configuration and training at extra cost
All prices will include first year support
Support is provided upon condition of a suitable remote link (such as a VPN – virtual private network) to all sites; cover is for a 12-month period and includes all updates
All prices are subject to VAT