Specialist SAGE Point of Sale Systems for Retail, Wholesale and Trade Counter
SAGE EPoS
Q-tron has been active in the retail marketplace since 1990 when we produced our first EPoS (Electronic Point of Sale) system.
With over twenty-five years experience in the SAGE EPoS market place Q-tron has been able to build new generation Point of Sale software (Q-WinPos) incorporating features for fully integrated use with SAGE. All aspects of functions such as price list, customer account status, product levels and discounts, and the ability to create and update Sales Orders are available.
We have developed strategic trading relationships with the leading retail hardware manufacturers in order to offer a full range of modular and integrated EPoS solutions.
Q-WinPos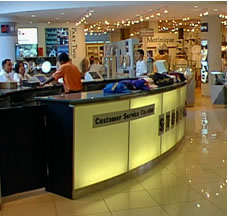 Electronic Point of Sale linking 'live' to SAGE stock control, customer accounts and banking.
A fully integrated EPoS and Trade Counter system to cater for the more demanding retail and wholesale environment. Full Sale on Account with discounting and comprehensive Cash Book and Nominal integration.