Q-plus
Maintaining the Barcode Database for use with the plus(+) versions of Q-tron Software
Advanced Barcode Database For SAGE 50
All Q-tron Scanning related Products are available in two variants – standard and plus (+).
In their standard form they will only scan barcoded representations of the SAGE Product Codes. This is ideal in an environment where a product will always be referred to by the SAGE product code.
In other environments, Retail for example, a product that you purchase from a manufacturer could have several different manufacturer's barcodes. One reason for this is that they may manufacture the product in different packaging to celebrate a special anniversary or sporting event. To them the products are different but to you they are all the same. Or maybe you purchase the same product from multiple suppliers – each with their own barcode.
To cater for this, with the plus variant of the software, each SAGE product code can be linked to any number of alternative barcodes. Then, if an alternative barcode is scanned, the software will automatically convert the barcode to the corresponding SAGE product code.
Q-plus holds and maintains the Barcode Database for use with all Q-products where alternative barcodes need to be referenced against a SAGE product code.
Maintaining the Barcode Database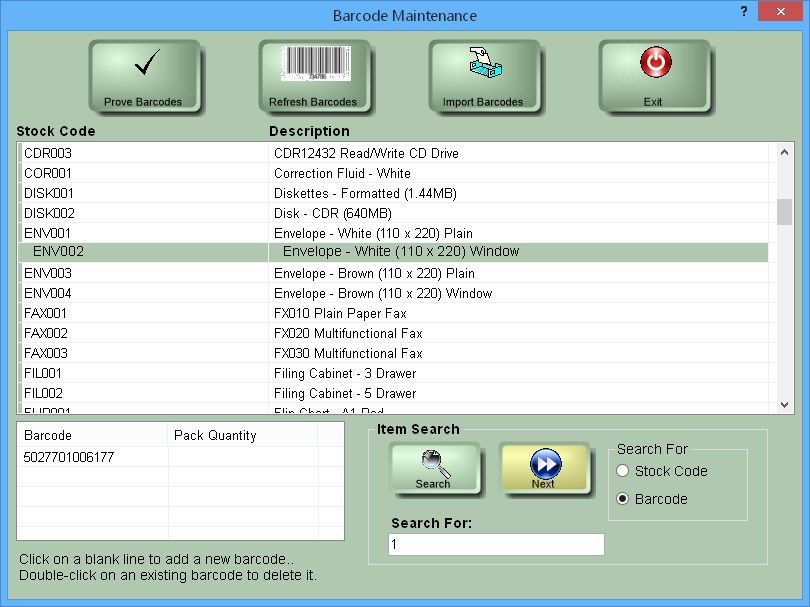 An easy to use maintenance screen is used to record the alternate barcodes and 'attach them' to the related SAGE product code. The program ensures that you are not entering a duplicate barcode.
The program includes a search facility which enables quick identification of the SAGE product code by description, product code or barcode.
Q-plus also includes an import utility for attaching barcode tables from the Q-tron EPoS system or via a suitable CSV file from an external application.
Pricing
The overall system price will depend on requirements, we will be happy to provide a written quotation on request
The software is provided with installation, configuration and training at extra cost
All prices will include first year support
Support is provided upon condition of a suitable remote link (such as VPN – virtual private network) to all sites; cover is for a 12-month period and includes all updates
All prices are subject to VAT
Q-tron reserves the right to alter Product Specification and pricing without prior notice. E&OE.