Q-plus - Bar Code Database for SAGE
Easy storage of customers stock codes for labelling.
Advanced Bar Code Database For Sage Stock Control
Q-plus links a bar code table to individual product and stock codes in SAGE Line 50 and 100 for use with other Q-tron products. Manufactures barcodes or part numbers can then be used by Q-bar stocktaking, or the Q-pop purchase order products to correctly identify you own Product code.
When packaging and supplying goods, Q-bar can be used to produce sales or stock labels with the customers required unique stock number and code, different customers codes can be stored against each stock item.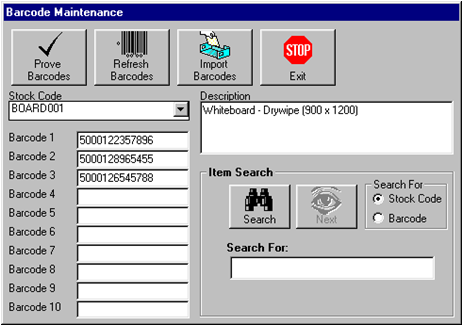 Built in Cross Referencing 
Allowing up to 10 alternate bar codes or numbers to be 'cross referenced' with a single SAGE Product codes, this gives you the power of using multiple identifiers to locate the SAGE Product.
Easy to use maintenance screen for 'attaching' bar codes of any type, or alternative identifiers such as manufacturers or customers stock codes, to individual Product items. Each bar code is manually entered into the table and checked for duplicates.
The search facility enables quick identification of the SAGE Stock Item by Description, Product Code or Bar Code.
If a number or code is passed to Q-plus that is not in the table it will treat the data as a  Line 50 or 100 Product Code.
Powerful import utility for attaching existing bar code tables from the Q-tron EPoS system or via a CSV file from an external application.
Bar Code Referencing
All scanning products from Q-tron come in two variants.  In their standard form they will only scan bar coded representations of Sage Product Codes.  In their plus (+) form each Sage Product Code can be linked to a bar code table containing alternative bar codes.  Therefore if an alternative code is scanned, the data is converted into its corresponding Sage Product Code.
Q-plus
Q-plus software contains the bar code table for use with Q-products where an alternative or manufacturers bar code number needs to be referenced against a Sage Product Code.  It allows the manual input of bar coded data.
Pricing Information
Q-plus Software with Interface to Sage Line 50 or 100 (Windows version)
Q-plus Software with Interface to Sage Line 100 (4GL version)
This product includes 30 days telephone installation support only.  Full software support and update cover
available on request.
All of the above prices are subject to VAT and delivery.
 Q-tron reserve the right to alter Product specification without notice.