Q-Stock
Multi-Location Module for SAGE 50
Q-Stock has been developed to offer SAGE 50 users many of the advanced stock control facilities that are currently only available in the more expensive SAGE products but at a fraction of the cost of upgrading.
The system has a modular design, which enables you to take only the facilities that are relevant to your business.
Q-Stock works independently from SAGE and caters for up to 999 Sites with an almost limitless number of Stock Locations at each Site.
Q-Stock replaces all but the accounting functionality of SAGE with in-built Purchase Ordering, Stock Control and Sales Order Processing; there are also optional integrated Batch/Serial Number Tracking, Sales Quotation, Contracts and Rental Modules available.
Stock Locations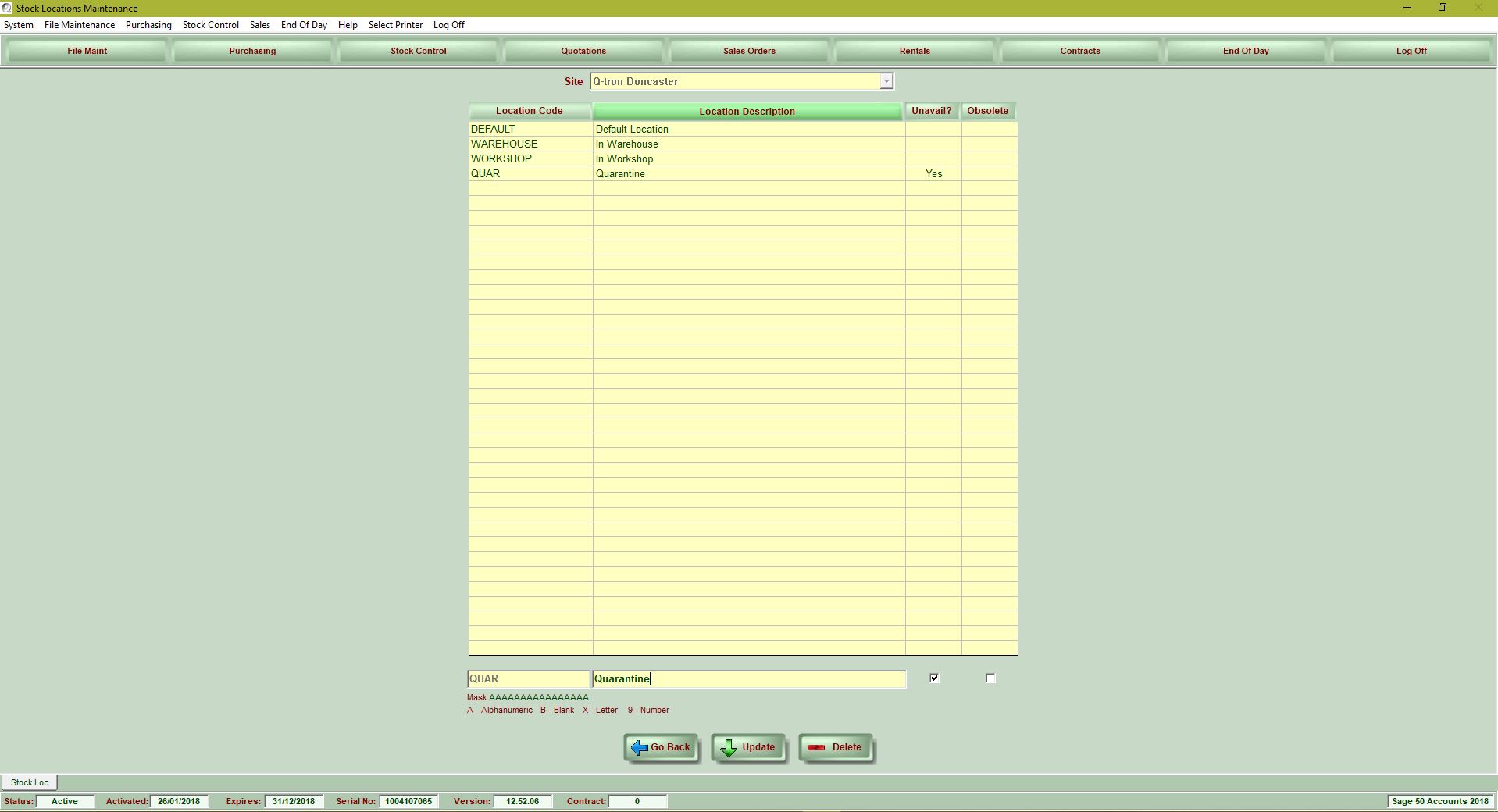 Stock Locations can be defined as 'physical places' where stock could be stored within a site – this could be a floor, a rack, a bin number – it could be a place in your warehouse where stock is held in reserve for a customer; you decide how you want to use locations.
Stock Locations can also be identified as 'unavailable for sale' to enable you to set up quarantine areas and reserved stock locations.
There are screen enquiries that allow you to see exactly 'what is where' and you can even ask for a stock valuation (by cost and default selling price) by location if you wish.
The optional Batch and Serial Number recording facilities together with the comprehensive built-in enquiries can provide total traceability of individual stock items.
Purchase and Sales Invoice details are posted into SAGE as they occur within Q-Stock and aggregate on-hand stock quantities held within SAGE are updated in real-time. If for any reason the live link to SAGE is lost the system will store invoices and stock movements until the link is re-established.
It is possible to temporarily 'switch off' the interface to SAGE which can be very useful at year end (or if SAGE itself has a problem). You can carry on using Q-Stock while the interface is suspended. When SAGE becomes available again you 'switch on' the interface, run an 'End Of Day' and all postings made using Q-Stock while the interface was suspended will be posted immediately into SAGE.
Q-Stock includes many useful additional features that are not available in SAGE.
Optional Modules
The following Modules may be added for extra functionality at additional cost: –
Batch Control Module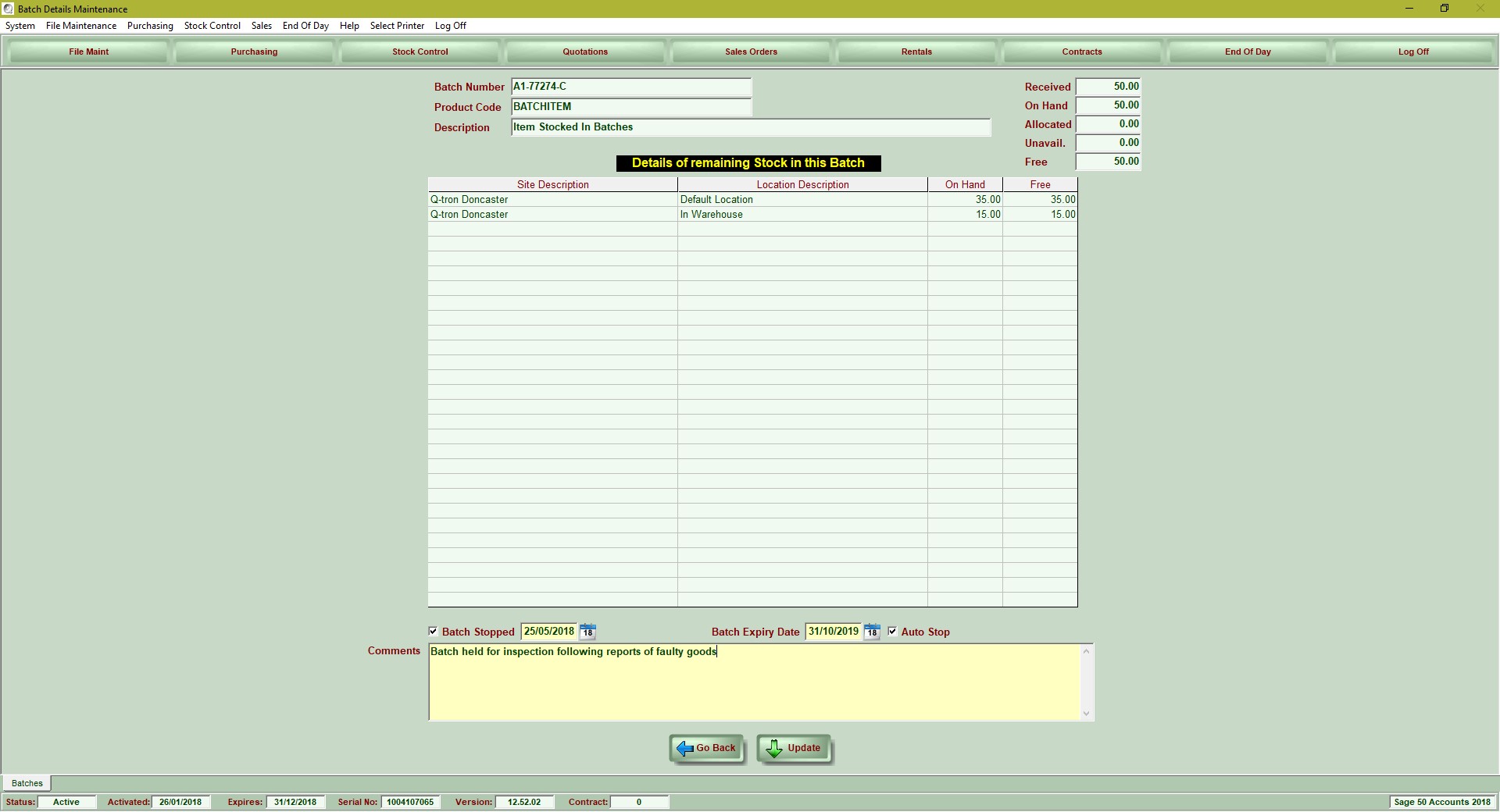 This module enables you to keep track of batches of products. Although goods from a batch can be held throughout the company i.e. in various stock locations over several sites, you can easily enquire on stock using the batch number and view details of all goods in the batch. There is a facility to record notes at batch level and to stop further items from a faulty batch being despatched. The Sales Order Enquiry will allow you to quickly review sales orders for a given batch.
If a batch has an expiry date you can tell the system to automatically stop further stock from the batch from being despatched.
Serial Number Tracking Module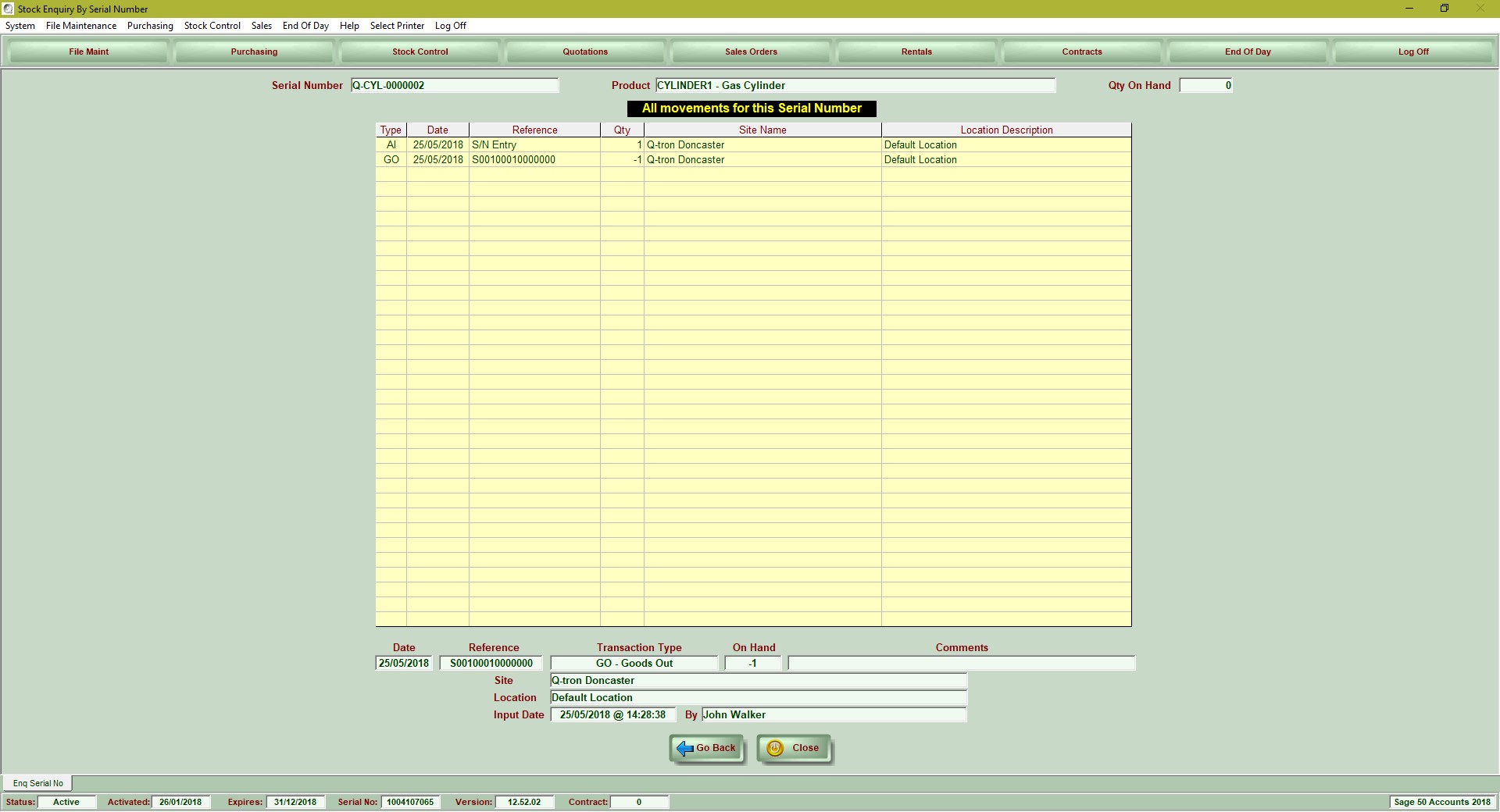 This module enables you to track products with serial numbers. A detailed audit trail is maintained for each item which allows items to be tracked from initial receipt to ultimate despatch along with any site or location transfers. The Sales Order Enquiry will allow you to quickly enquire on all sales orders for a given serial number.
Rentals Module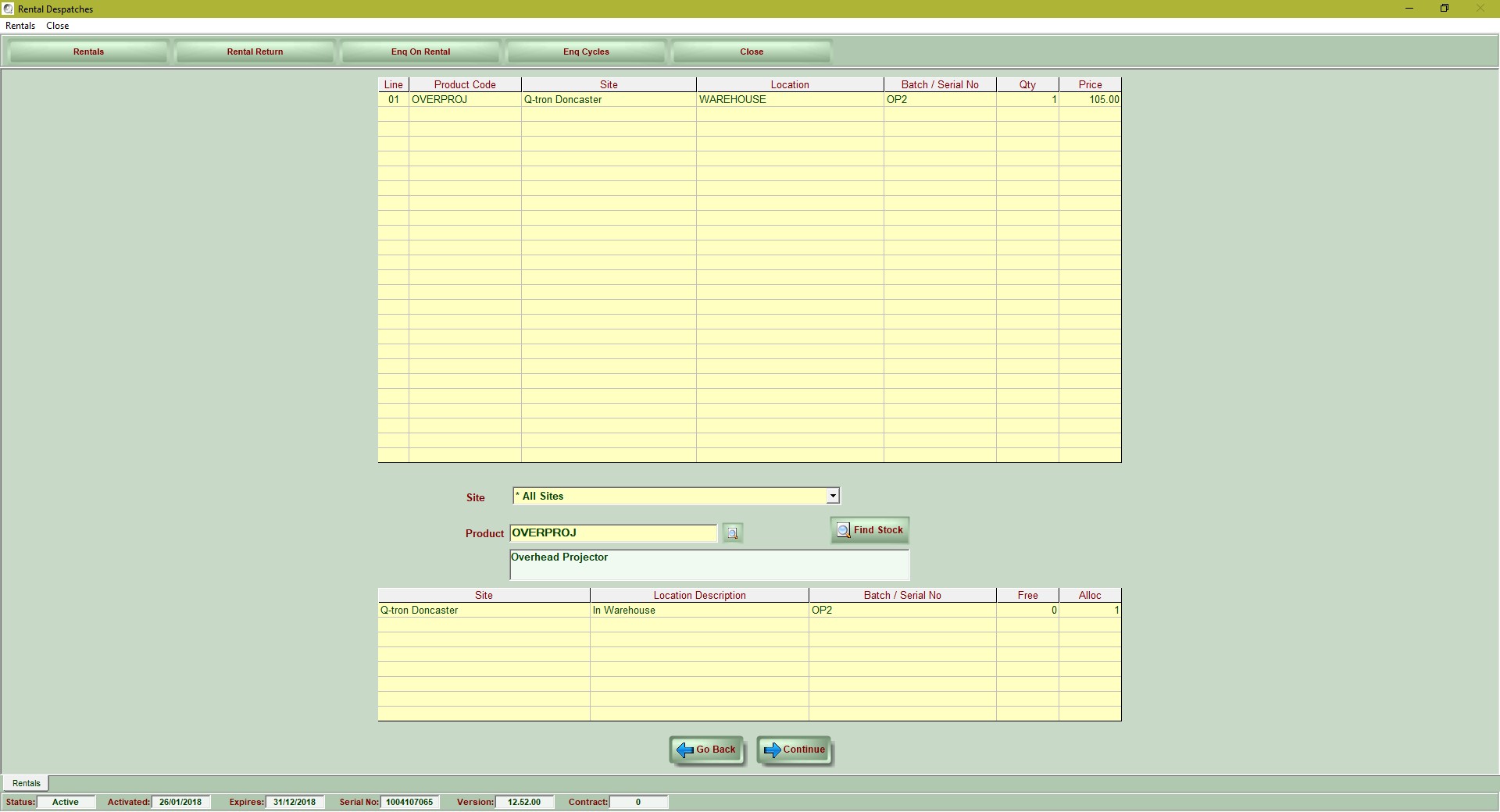 This module allows you to quickly and easily process rentals, to keep track on items that are currently with a customer and when they are due back into stock. Ideally this module should be used in conjunction with serial number tracking to uniquely identify stock items so that if the product becomes lost or damaged you can quickly and easily find details of all customers that have rented the item.
If you have a policy of selling products after a given number of rental cycles, the system can list goods that are due for disposal.
Sales Quotations Module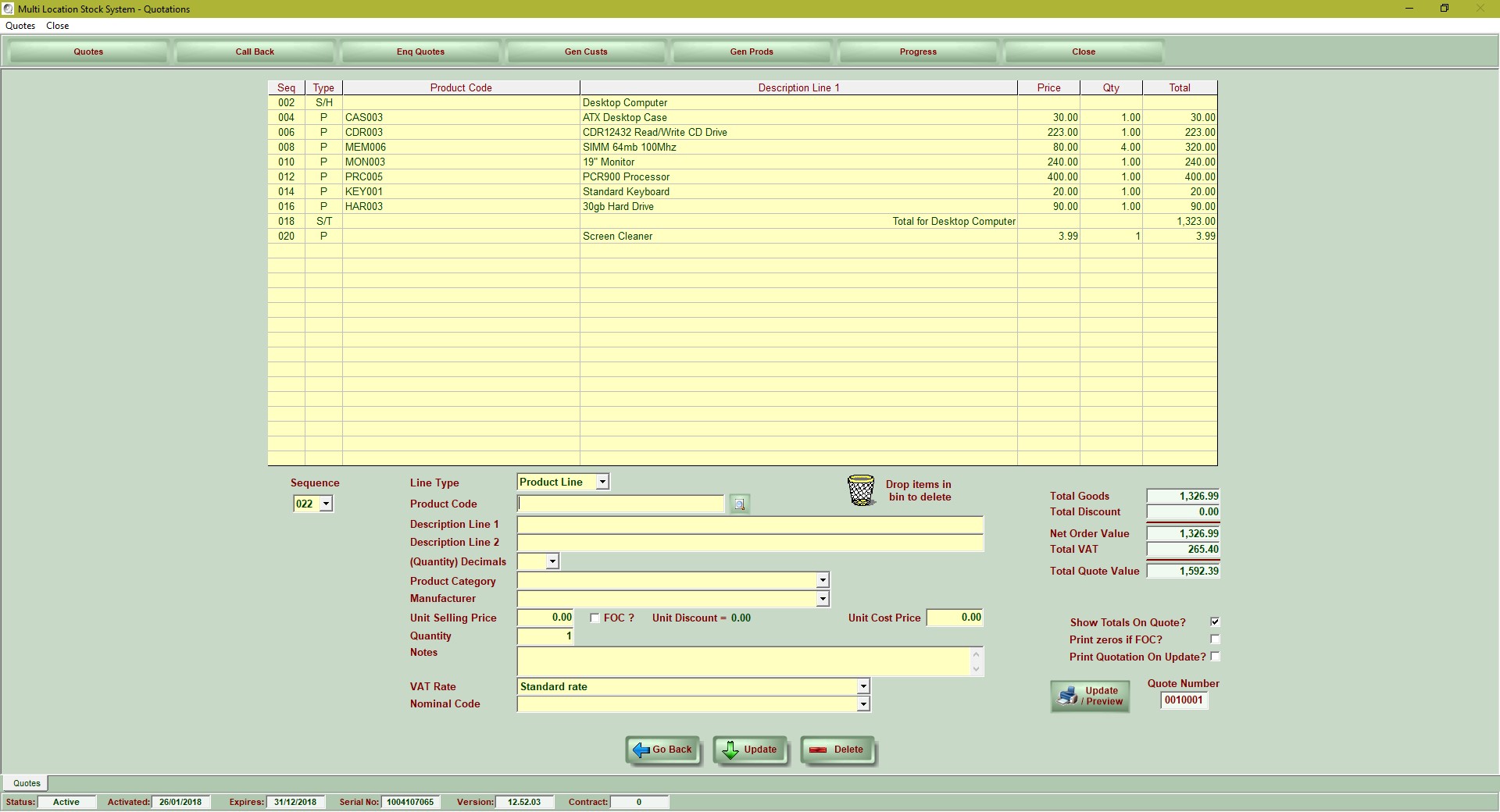 This module is used to record details of pending sales quotations. It is not necessary for new customers and/or products to be created on the system at the quotation stage. The details recorded on the quotation that progresses to a sales order can be used to generate new customer and product records into SAGE if required. Completed quotations are automatically removed from the system and are placed onto an archive database. The user also has the option to manually archive 'dead' quotations with a facility to resurrect them should the customer return at a later date.
Pricing
The overall system price will depend on requirements, we will be happy to provide a written quotation on request
The software is provided with installation, configuration and training at extra cost
All prices will include first year support
Support is provided upon condition of a suitable remote link (such as a VPN – virtual private network) to all sites; cover is for a 12-month period and includes all updates
All prices are subject to VAT
Q-tron reserves the right to alter Product Specification and pricing without prior notice. E&OE.